About

Our Mission:
'To provide safe, gentle and effective Chiropractic care for individuals and families so they may experience optimal spinal health and wellbeing'.
About

Our Mission:
'To provide safe, gentle and effective Chiropractic care for individuals and families so they may experience optimal spinal health and wellbeing'.
Chiropractic care is more than just spinal health, it's about the health of your whole body.
At Carrier Street Chiropractic, we are passionate about helping families and individuals experience greater health, naturally, by providing gentle, professional chiropractic care. 
We consider your stage of life and spinal health and provide appropriate care designed to help you achieve your health needs and goals. We provide individual care plans, involving;
Specific Chiropractic care

Exercises designed to strengthen and rehabilitate 

Regular progress exams

Work in conjunction with other healthcare professionals with the aim of assisting your current health needs.
We also promote research-based education to help our patients make healthier choices in regards to diet, exercise and movement, sleep and their mental and emotional well-being.
While many people associate chiropractic with back pain, we are committed to promoting a better understanding of how the spine moves and how it can affect and influence body function and performance.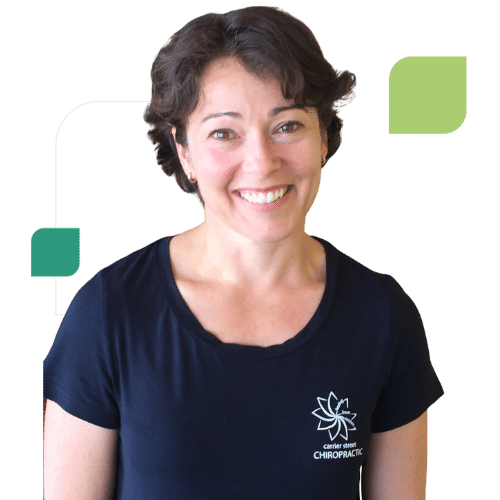 Dr. Michelle Lloyd
B. App. Sc (Clinical Sc)
B. Chiro. Sc., DICCP
Dr Michelle has been practicing in Benalla since January 1997, after graduating from RMIT, Bundoora, Melbourne. 
Dr Michelle has completed a 3 year Paediatric and Pregnancy Diploma Program through the New Zealand College of Chiropractic in 2012.
As a mother of 2 children, Dr. Michelle is passionate about providing care to pregnant mums and children of all ages. With a background in competitive athletics, Dr. Michelle is involved in hiking, cycling, and CrossFit, having obtained her Level 1 CrossFit training certification in 2015 and renewed in 2021.
Dr. Olivia Szeligiewcz
B. Hlth. Sc. (Chiro)
M. Clin. Chiro
Olivia graduated from RMIT Bundoora in 2015 with a Masters of Chiropractic health. Since graduating Olivia has enjoyed working locally in the North East where she has grown up. Olivia enjoys working with all patients, especially postnatal mothers and babies.  
Olivia has three young children Mia, Milla and Levi with her Husband John. Olivia enjoys staying fit and active, cooking and continuing to learn and study. Olivia is currently studying the Thomson breastfeeding method.
Sharon joined the team at Carrier St Chiropractic in 2018. She has been under chiropractic care for 20 years and enjoys seeing people improve their health and wellbeing through making positive choices.
Sharon has lived in Benalla for most of her life and lives here with her husband and Son while her Daughter lives in Ballarat. 
Sharon Loves to relax with a good book and enjoys baking on her days off. 
She is the friendly face you will see at the front desk most days of the week and is super excited at what the future holds for Carrier St Chiropractic and its patients.
Rachael started at Carrier St Chiropractic in December 2021. Rachael is currently studying a Allied Health course, and hopes to further her studies in Melbourne in the near future, to reach her career goals. 
Rachael moved to Benalla in 2012, and completed her schooling at FCJ College in 2019.
In her free time Rachael enjoys spending time with her friends and going on different adventures around Victoria.
Rachael is the other friendly face you'll see at the front desk, and looks forward to welcoming you. 
Techniques Used Include
ABC (Advanced Biostructural Correction)
Gonstead
Diversified
SOT
Activator
First Visit
Please allow up to 1 hour for your Initial Consultation.
After taking a detailed history and listening to your health concerns, determining what you want help for and relief from, a thorough examination relevant to your needs will be conducted.
This will involve:
A full postural analysis, with digital posture pictures.
Joint range of motion analysis
Neurological assessment
Relevant orthopaedic tests
Muscle strength tests
Palpation of the spine, to help determine the health and movement patterns of the spine

After this, you may be referred for other tests such as x-rays.
Second Visit
Allow up to 30 minutes.
During your second visit, we will sit down together and review your examination results. Our aim is for you to better understand how your body works and what is wrong.
We will organise a care plan specific to your needs, with the aim of assisting you to achieve your health goals. If we think you need to see someone else, other than a chiropractor, we will refer you to that particular health professional.
Nerve Supply Is Life Supply. Keep yours healthy with Chiropractic.
Address
38 Carrier St, Benalla,
VIC 3672
Hours
M 08:00 AM - 05:30 PM
T CLOSED
W 08:00 AM - 06:00 PM
T 12:30 PM - 06:30 PM
F 09:00 AM - 12:30 PM